How Can Local Businesses Get Found Using Voice Search?
Make it easier for voice search users to find your local business by optimizing your business information on your site and by getting your business listed on the most prominent voice assistants. With the use of voice search becoming prevalent, it is essential to adapt your business to this technology. 
A study on voice search for local businesses shows that 76% of users with smart speakers look up local information at least once a week. Of these users, 53% voice search on a daily basis. With these statistics expected to increase further, your marketing efforts must include landing the coveted spot for voice search results in search engines. The question is, just how do you do that? 
How Can Your Local Business Easily Get Found Using Voice Search? 
Here are some of the best ways you can increase the chances of being found through voice search: 
Use Natural Language in Your Content 
With natural language being used in queries, it makes sense to write your content using natural language as well. Articles written in a conversational tone would match consumer searches more, increasing your chances of ranking higher. 
Use Long-tail Keywords 
Keywords remain important in voice search optimization, but they are used in a different way. When consumers use voice search, they do not just say a random string of specific words. Voice searches typically come in question form or in long phrases that may have over ten keywords. So, the use of long-tail keywords is now emphasized.  
Provide Clear Answers to Questions 
To increase your chances of ranking high on voice search and getting into the featured snippet box, create content that provides clear answers to possible questions in your industry. Try to provide a concise answer in the first sentence or within the first paragraph of your content. Ideally, this should be around 29 words in length. 
Create an FAQ Page 
Since voice search is mostly used to get quick answers, what better way to provide these than by having your own FAQ page? Include a Frequently Asked Questions section in your site and update the page by regularly checking search engines for the most popular queries related to your niche. 
Get your Business Listed on Major Voice Assistants 
Another way to enhance your business's visibility on voice search is by listing your business information on major voice assistants. This increases its chances of being found as search engines rifle through information across the web.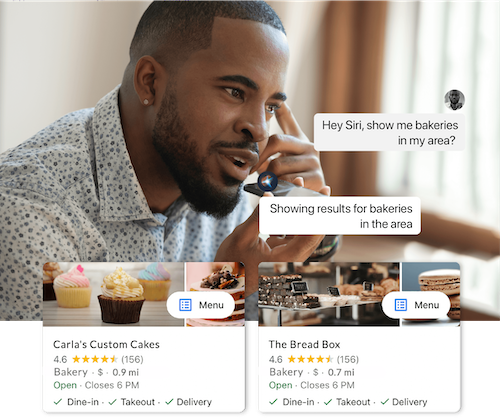 Get Found Through Voice Listings 
Voice Listings helps your local business get discovered through voice search by ensuring that your business information is listed on the major voice assistants: Alexa, Siri, Google Assistant, Cortana, & Bixby. They ensure that your business details are complete and always up to date. 
With everything above in place, your local business is certain to get found on voice search. 
See how your business can benefit from getting listed on the most popular voice search platforms.